E-guides and Journaling Downloads
The Best way to connect to your inner wisdom is to LISTEN.
Hello and welcome! I am so happy to offer you a choice of several e-guides that I have spent the last few years writing. Each of the e-guides focuses on a different aspect of SVT. When you find the ones that interest you, just click on them and purchase for immediate download.
Featured SVT E-guides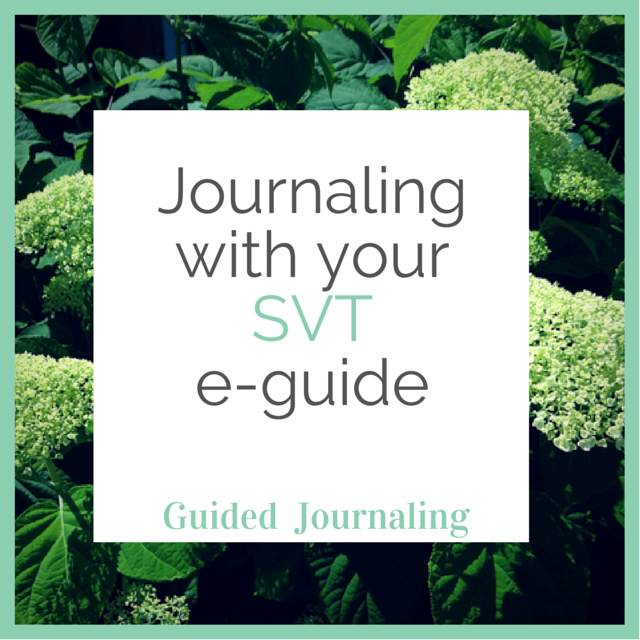 Featured E-guide of the Month
Every Month I highlight an Eguide that corresponds to the theme of the month. This month's e-guide is…
Book your Session

Journaling helps you heal...
skhgjshg;kjag
Shop Now
Journaling .....
Journaling skdhgvajmh.vj,axh
Learn More
Journaling ....
Jouranling x/kfg;aslkfhg/laksfhg
Learn More
The path to healing your SVT naturally is possible....
You can start wherever you feel comfortable and ready to begin…
Contact Us
Heartfelt LOVE from Other SVT friends….
"Thank you for this blog and am going to read every single word and follow your advice."
"I cried when I found your site. I have just been diagnosed with SVT after having an episode after a shift at the hospital. I am a midwifery student and I have been freaking out that I will have to drop out as the pressure and stress are so high in my degree course. Having read your blogs, I now feel there is hope for me to control my symptoms naturally"
"Thanks so much for your blog, and giving me the nudge I need to clean up my life, and get healthy again."
"So happy to see that there are other people out there that want to fix this SVT monster naturally"
"I am so glad I found this!!!"
"What an amazing blog!"
"Reading this blog has made me feel much more at peace"
"I am now going gluten free, I see the benefits and I do believe I am gluten intolerant."
"Thank you for your blog. I am so grateful."
"I like most others am in tears at finding this blog."
"I am eager to read the rest of your blog."
"Hi. I am a medical resident specializing in cardiology…. I have always been lactose intolerant and after reading the blog will try to be on a gluten free diet."
"Thank you for the blog it helps to know what you isn't rare and you aren't going crazy stressing while the doctor thinks it isn't a big deal."
"Wow. I was moved to tears reading this."
"THANK YOU THANK YOU THANK YOU!!! YOU have changed my life and if it wasn't for this blog and these ideas I would be under the knife right now getting this horrible ablation that is not a cure, but a band-aid covering up the real problem"
"I am forever grateful for your blog, it has changed my life"
"Aww…finally! Some information! Thank you, thank you, thank you!!!"
"….thanks for being here for us!!!"
"Hello and thank you Laura for this wonderful site and to all the people who have shared their experiences."
"So thankful to find this encouraging website!"
"Great to find this site."
"Thank you for this site. It is one of the only good resources I could find online."
"Re-visitng your site and I am comforted by all of this so much."
"I too find drinking a lot of water helps"
"Great website and blog Laura. I've read it from top to bottom. I'm very grateful for the sharing and hearing of people experiences and your encouraging comments. It helps to know others successes"
"Hello.This post was extremely motivating"
"Wow, this blog is a great find"
"How can I put into words what Laura has meant for me?
I met her through a free summer book club she was hosting.
On the way out I noticed a flyer with few packages she offered and I thought "Wow, I could actually afford a life coach!"
I had been to therapists over the years but felt we were always rehashing what was "wrong". I was coping with loss, feeling isolated, stuck, defeated– when alI I wanted was to forge forward in a positive, inspired way. That's what working with Laura has done for me.
We do everything from visualizations that have helped me manifest friendships, to helping me map out a business idea I have been struggling to "launch".
I leave her office feeling connected to my spirit and at the same time very grounded. My daughter even came to Laura's recent Vision Board Event. It may not all be in place yet, but I now have the courage to follow my inner voice."
Jennifer
"My experience with Laura Madrigano has been profound. Upon entering her office, I can feel the shift that I will undergo, and I know that I will leave an enlightened, more peaceful and happy person. After each meeting with her I feel inspired and open to the gifts that are offered to me in every day life, and I find that more of them are coming my way! Every session with Laura has been different, as she has been able to tailor her techniques and approaches according to my needs that day. I have always felt safe and comfortable speaking with Laura about anything in my life, as she has a way of putting me at ease and making me feel at home. I recommend Laura to ALL of my friends and family for any issue they are facing; be it financial issues, relationships, business, goal setting, clarity, joy, health, or any one of the endless topics one could want to improve. From the bottom of my heart, Laura: thank you for everything!"
Elizabeth
"Words can barely express the depth of insight and wisdom I have experienced as a result of working with Laura Madrigano as my life coach. She is a very gifted and inspiring person. Working with Laura has been life-changing. Beginning at a stressful point in my life journey, Laura helped me proceed beyond my expectations!"
Joanne
"Cras rutrum blandit sem, molestie consequat erat luctus vel. Cras nunc est, laoreet sit amet ligula et, eleifend commodo dui. Vivamus id blandit nisi, eu mattis odio." Lorem Ipsum